My Name Is What?
Name: Allison Hunter, but only my mother can call me that. I prefer Allie!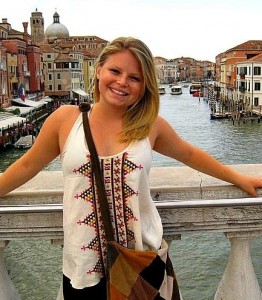 Age: newly 21, and loving every minute of it.
My favorites sports teams are the

Baltimore Orioles

and the

New York Giants

My parents currently live in Baltimore MD with my 2 dogs (a springer spaniel and a border collie mix)

I have 2 older brothers (25,27)
I'm very short and most bouncers think that my ID is a fake, but I promise it's real!
I'm currently a Junior at George Mason University working towards a Communication degree with a minor in electronic journalism.
You can follow me on twitter @alliegatorr_ or friend me on Facebook!
I love listening to music and going to concerts. My favorites include Phish, Red Hot Chili Peppers, Incubus, Umphrey's McGee, Dr. Dog, Wilco, Mumford and Sons, The Decemberists, Foo Fighters (this list could go on and on)
I'm also a big fan of classic rock and grew up with an extremely healthy overdose of the Beatles.
My dream job is to work for Toms shoes as a PR representative. I would also like to work for any sort of nonprofit organization.
I love traveling and have been to several countries around the world including Germany, Austria, Switzerland, France, Italy, Mexico, and the Cayman Islands. I want to travel to India, Brazil, Ireland, and Thailand- but I am up for any adventure!